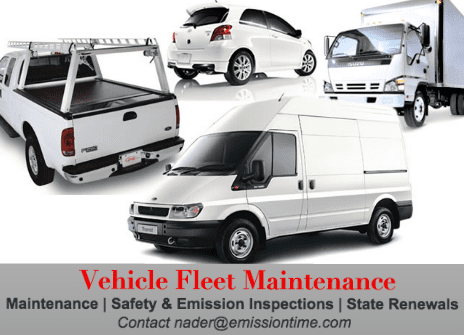 If you've enjoyed the experience you've had getting your safety and emission inspections or vehicle registration completed by Emission Time and are responsible for vehicle fleet maintenance for a corporate or public entity, Emission Time may be able to further simplify your job by offering you a great deal on your vehicle fleet maintenance. Emission Time provides regular maintenance to fleets throughout the Salt Lake Valley, and we'd be happy to help you evaluate the cost and time savings available to you should you choose to trust us with your vehicle fleet maintenance schedule.
Vehicle Fleet Maintenance in the Salt Lake Valley
The vehicle fleet maintenance services we provide include the following:
State safety & emission inspections for the entire range of your coporate or public fleet
On site DMV renewal stickers – this will save you and your entire fleet an incredible amount of time because we can provide this service at our station instead of forcing you to go in to the DMV
Regular oil changes and engine fluid top off for your fleet's vehicles, ensuring they continue to function correctly and receive the preventative maintenance that will keep them running smoothly for years
Rock Chip Repair or mobile windshield replacement to cover the little problems that come up during the use of your fleet, or the bigger problems that can't be patched up without risking serious safety concerns and potential damage
If you have additional questions about the services we can offer to you as your official vehicle fleet maintenance providers, please contact us or give us a call so that we can answer them for you. We would love to work with you in order to ensure that your needs are properly met and that you are able to receive the kind of service you need for your fleet.