Vehicle Headlight Restorations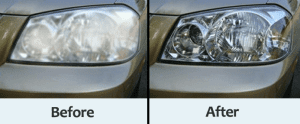 While you probably do everything you can to keep your car running properly, keep up on your safety and emissions, and regularly register your vehicle each year, there's a good chance you don't always give a lot of thought to your car's headlights, unless one of them goes out or you're pulled over by a police officer and given a fix it ticket. That being said, maybe you're like some of our customers and have started to notice a decrease in your car's headlight performance. You might feel like driving at night is becoming, more and more, like crawling through the dark and hoping you don't run into anything.
Why Get Your Headlights Restored?
If you find yourself struggling to see while driving at night or in extreme weather conditions, your headlights may be too dim, which is a normal part of wear and tear for your vehicle, but one many people often overlook. Your first instinct, if you find yourself in this situation, might be to try replacing your headlight bulbs and blame your problems on them. What you might not have thought about is home much more effective it might be to have your headlights restored.
So what is headlight restoration and how does it work? Headlight restoration is the process of cleaning and refinishing your headlights so that they sparkle and shine, and, most importantly, let the light from your headlights out, just like when you drove your car off the lot. First, we will sand off debris and oxidation, and smooth scratches from the surface. Next, we will buff away marks for a clear and shiny finish. Last, we will apply UV protective coating. The end result is increased driving visibility and shiny "new" headlights. Plus, another benefit of headlight restoration is an environmentally friendly alternative to headlight replacement. If you've been having problems with your headlights, feel free to contact us today or view our prices to find out if we can offer you a deal.