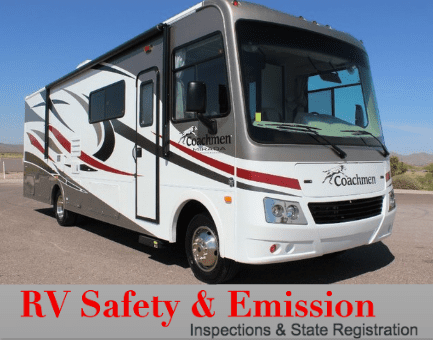 Utah RV and Motorhome Registration
GAS ONLY & Diesel Under 14,500 lbs GVWR
(Please note most diesel RVs class A or B are rated heavier than 14,500 lbs GVWR and we are unable to test. To find a list of equipped locations please call Salt Lake Air Quality Department at 385-468-3837)
Our Sandy & Salt Lake City safety and emission inspection lots can accommodate, small, midsize, and large RVs (recreational vehicle) and are fully equipped to service and test your RV for your yearly registration renewal with the DMV. You can also receive normal vehicle service and maintenance, including brake service and oil changes at our lots in addition to getting your registration renewed to ensure that your RV stays working in tip top shape. In addition to these services, our on the spot renewal station allows you to complete your Utah emission testing, safety inspection, and DMV renewal at our station, meaning you can skip out on the DMV entirely and get your RV back on the road as quickly as possible, which if you own an RV, is where you probably want to spend most of your time.
RV Safety inspection & Emissions testing
At Emission Time we understand that owning an RV is about a lifestyle of freedom and exploration for you and your family, and you want to be able to maximize your time on the road. Getting your safety and emission testing completed is probably more hassle than you really want to deal with, which is why we have made a commitment you can count on. At Emission Time we promise that we will have your motor home in & out in under 60 minutes so you can get back on your journey. Get your RV safety inspection, emission testing, and Utah State DMV renewal registration and sticker in one place – Emission Time – and save time!
If you're new to owning an RV or motor home and need more information about registering your RV in Utah we encourage you to do your best to educate yourself so that you have an idea of what to expect when you come in. You can find more information by going to the DMV's RV Registration Information page.