Do Americans (and especially Utah residents) have it easy or tough when it comes to vehicle inspection and emissions testing? Almost every country around the globe requires some kind of similar test, and you might be luckier than you think when it comes to cost, time spent and overall standards. Safety and emissions testing are designed to ensure your well being, the safety of others on the road and to help keep Mother Nature a little healthier.
Ready to see how the US stacks up? From Brazil to the UK and everywhere in between, here's a glimpse into safety inspections on a global scale.
Around the World in an Approved Car
In Brazil, only private companies offer inspections and it's mandatory every single year for gas,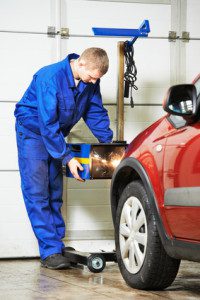 diesel, alcohol and all natural gas vehicles, unless they're registered in the current year (in which case they've already been approved for 365 days). Every motorbike and motorcycle also has to be inspected, with the only exception being if they have a two-stroke engine. Inspectors look for emission and noise levels. Once the vehicle passes, drivers get an electronic stamp that's linked to the license plate. In some cities, traffic cameras automatically tag cars without updated stickers and you'll get a ticket in the mail for about $40.
Our neighbor up north has different testing regulations in various provinces (kind of like states in the US). If you're in New Brunswick, an annual test is required but if you're in Nova Scotia, it's every two years. However, those in Ontario and in certain regions have it worse, since they have to get it checked twice a year.
Asian Influence
Japan has what's called a "shaken" program, which is required of all personal cars and two-wheeled motorcycles in the past three years. A new shaken is required every two years. In China, the Chinese Rural Vehicle (CRV) is a government agency that lets police fine anyone whose car releases "visible smoke." Different cities and provinces also have their own regulations, and new vehicles must pass European regulations when being manufactured in the country.
As for Singapore, cars must get an inspection every two years, except for vehicles older than 10 years which need one annually. Motorcycles and mopeds also must follow these regulations. For taxis, commercial vehicles, buses and trailers, inspections are every six months or year depending on its age. You have to have an updated sticker to get your car's new road tax.
European Laws
Austria mandates that all vehicles undergo "recurring inspection" annually, and you get a white sticker if your car has a catalytic converter and a green sticker if it doesn't. If your decal is up to date the car is considered "roadworthy," but Austria offers a generous four-month grace period. For new cars, an inspection is required within three years.
Nearly every country is doing their part to green up the roads—but some are bigger sticklers than others. The next time your emissions test is due, count yourself lucky that it's not every six months.