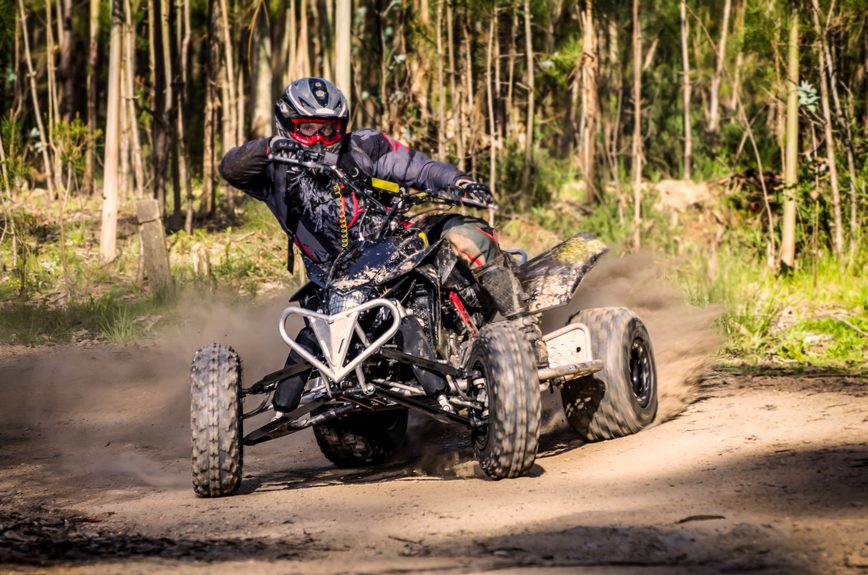 Off-road vehicles are popular in northern Utah, thanks to the many recreational opportunities this beautiful area offers. Each state establishes its own governing laws and requirements for the use and licensing of recreational motor vehicles, including the definition of what constitutes an off-road or off-highway vehicle. Utah's requirements are fairly straightforward, but understanding the related rules and requirements will keep you safe and legal while you enjoy the great outdoors.
What is Considered an Off-Road Vehicle?
Utah's classification of off-road vehicles is OHV (off-highway vehicle) and the registration process is only slightly different than that for standard passenger cars and motorcycles. OHVs include snowmobiles, type I and type II all-terrain vehicles, sand rails, utility terrain vehicles, motorbikes and farming or agricultural equipment. OHV permitting applies to any motorized or motor-assisted vehicle that does not meet the Utah traffic code for operation on a street or highway. Off-road vehicles that meet the standards for street use may be registered using the normal procedure, which requires that the operator have a driver's license even if the vehicle will not be used on the streets or highways.
Licensing and Registration Requirements of Off-Road Vehicles
Off-road or off-highway vehicle registrations are valid for one year. The specific procedure varies based on the vehicle's type, but follows the same basic procedure required for standard motor vehicles. You must have a driver's license to register an OHV, as well as proof of ownership (title) and proof of insurance. You are not required in most cases to have a safety inspection or emissions certificate if the vehicle will only be operated off-road. Anyone between the ages of 8 and 15 may operate an OHV under the direct supervision of a parent or guardian. For those over the age of 15, a driver's license or an approved OHV education certificate is required. You must display your registration sticker on the specified area of your OHV at all times.
Related Utah Off-Road Vehicle Rules
Several other Utah DMV rules related to OHVs are not technically related to registration, but they do govern the safe and legal operation of OHVs. Riders under the age of 18 are required to wear protective headgear or helmets. You are only allowed to operate OHVs on private property with the property owner's express permission. And of course you must always obey all federal, state and municipal laws and regulations. If you are an out-of-state resident visiting Utah with your OHV, you must apply for a non-resident temporary permit. You'll need proof of residency from your state and proof that your vehicle is owned by an out-of-state resident. The non-resident permit application is available online on the DMV's website.
For your on-road vehicle registration renewal needs, Emission Time in Sandy and Salt Lake City provides emissions and safety inspections as well as on-the-spot registration renewal. They also offer a variety of automotive maintenance and repair services. Their quick, professional service will have you in and out in no time, leaving you more time to enjoy your off-road vehicle.