You dutifully get your emission test done every year or two, snag that DMV renewal sticker and maybe you even sprung for a hybrid or fuel efficient vehicle. Now what? If you're not driving "environmentally friendly," you're not doing all you can to green up the environment. There are tricks you can employ to not only lighten your carbon "tire marks," but also save on fuel and help minimize smog in your city. Consider this your crash course on green driving, and the next time you hit the open road, try out your new moves.
The National Institute for Automotive Service Excellence (ASE) provides motorists with plenty of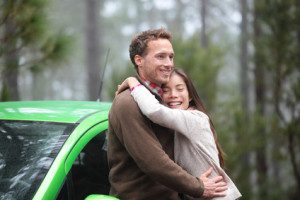 tips on saving cash and the environment while being behind the wheel. Start with routine vehicle maintenance to ensure your ride is functioning at its best. Something as minor as an oil change can do wonders for your car and Mother Nature. In the long run, it'll help you green up both your wallet and the earth.
Drive Green
While regular maintenance is crucial, it's most important to keep an eye on the engine. Spark plugs are notorious for wearing out, and if they misfire they can knock your fuel efficiency down by up to 30 percent. Replace those fluids and filters when recommended, and keep in mind that a properly maintained engine causes less pollution. Plus, a neglected car will only lead to more costly repairs the longer you hold out.
Many drivers are great DIY mechanics, but if you fall into this category also consider yourself an environmental steward. Make sure to follow government regulations for disposing of fluids as well as batteries. Just one quart of used motor oil tarnishes thousands of gallons of water. And antifreeze? Dumping it on the ground poisons animals and wildlife. There are many nearby shops that will happily take that old fluid, and local government departments can recommend disposal or recycling facilities.
Easy as Pie
Tire inflation is directly linked to how hard your engine works. Low air pressure (even if it's so minor that the warning light doesn't come on) can make your engine work double time. Misaligned tires can also lead to an overworked engine. Tire maintenance is key, and remember that skipping this checkup means they'll probably wear out faster—and tires are a toughie to recycle.
When driving, avoid accelerating suddenly and speeding in general. Both of these bad habits cause massive gas consumption and pile on more wear and tear for the transmission, engine, and steering/suspension system. Cruise control is your friend, and don't forget to drive consciously as well as defensively. Need a little more incentive? You'll make your brakes last even longer.
Final Tips
Whenever possible, cut down on driving all together. This might mean consolidating errands, walking or biking when possible and maybe checking out a car share situation for your commute. You should also take out any extra weight you're carrying (like those golf clubs). Too much junk in the trunk leads to bad mileage. Emission Time wishes you happy and safe driving.