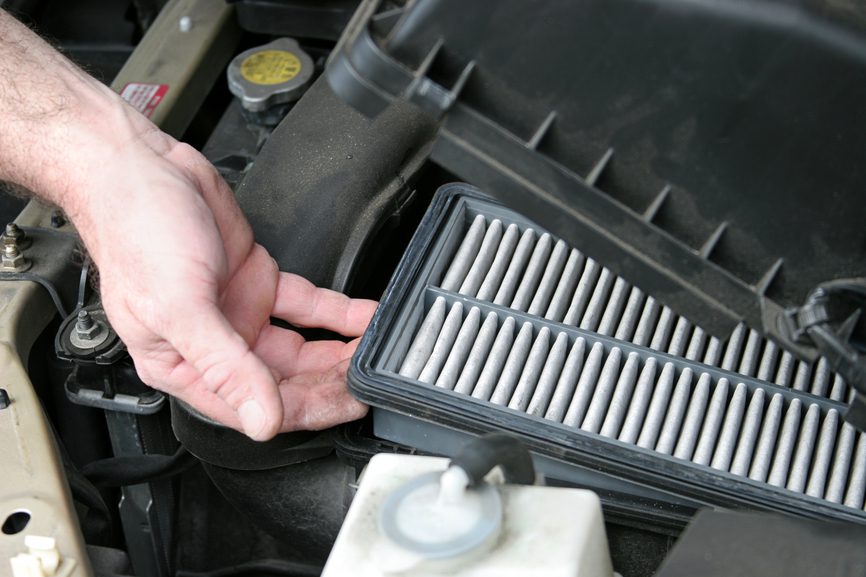 Your car's air filter may seem innocuous, but it's actually important for many reasons. The air filter plays a key role in the efficient operation of your vehicle, so it's important to keep it clean. A dirty air filter can cause a variety of problems and even result in a mechanical breakdown. Once you understand how the filter works and where it's located, you'll always be able to tell if it's dirty and even handle the replacement yourself if you prefer.
What Your Air Filter Does
Situated somewhere at the top of your engine compartment is a square-shaped air cleaner assembly. If you remove the top of the cleaner assembly, you will see that the filter sits right inside. Below the filter is a long plastic hose. Air is pulled in through the filter, down the tube and into the engine where it mixes with fuel. In very simple terms, if your car is idling, at a stop light for example, little air is necessary. The more you accelerate, however, the more air is needed to run the engine. The important thing to remember is that every bit of air that's pulled in must pass through the air filter before reaching the engine.
Why a Clean Air Filter is Important
Your engine runs on a tightly controlled mixture of fuel and air. In fact, for every gallon of gas, your car needs as much as 10,000 gallons of air. A dirty filter restricts the flow of air, depriving your engine and causing it to run poorly. The result can be poor gas mileage, reduced acceleration, poor engine performance and excess emissions. It can even reduce the life of your engine components. For all the critical services they provide, air filters are actually quite cost-effective. You will save by money by changing them every three to six months. In fact, many drivers replace them with every oil change.
How to Know if Your Air Filter is Dirty
The dirt and debris that contribute to clogging up a filter accumulate over time. Living or driving in an area where there's lots of dust, such as near a construction zone, can cause it to become dirty more quickly, as can doing a lot of driving. Under normal conditions, most cars require a filter change every 15,000 miles, but experts advise checking its condition after 10,000, especially under heavy use. You may notice that your car's acceleration capabilities have decreased or that your gas mileage is dropping. The easiest way to tell if your filter needs changing is to open the air cleaner and visually inspect it. New, the paper folds are a light color, free from dirt or debris. With use, the light color will darken and you may notice an accumulation of dirt within the folds.
In the Sandy and Salt Lake City areas, Emission Time is committed to keeping your vehicle running smoothly at all times. The experienced technicians can help you with regular maintenance as well as safety inspections and DMV registration renewals. Drop by and talk to them about changing your car's air filter.